Best Student Presentation Award
Award winners
International Toki Conference (ITC29) Announces Winners of the Best Student Presentation Award.
The International program committee of the ITC29 has selected seven recipients of the award.
Yasuhiro YAMAMOTO

, et al., Kyoto Univ.
"Magnetic Configuration and Heating Location Dependences of the Toroidal Torques by ECH in LHD"

Gaku YAMAZAKI

, et al., The Graduate Univ. for Adv. Studies.
"Comparison of corrosion products of JLF-1 steel in FLiNaK with H2O or HF solution"

Rongshi ZHANG

, et al., Nagoya Univ.
"Enhancement of arc ignition on tungsten in helium plasmas with impurity gases"

Toyo YAMASHITA

, et al., The Graduate Univ. for Adv. Studies.
"Microstructural characterization of the weld zones on ODS-Cu"

Hiroki SATO

, et al., Nagoya Univ. "Application of Contour Dynamics to Vlasov-Poisson Plasma in 1-D Periodic System"

Koyo MUNECHIKA

, et al., Tokyo Inst. of Technol. "Visible light tomography considering reflection light in a small tokamak device PHiX"

Naoki TAKAHASHI

, et al., Tokyo Inst. of Technol. "Fundamental study on fretting corrosion of various materials in solid breeder blanket"
They were introduced by Professor Shin Kubo, the chair of the local organizing committee in the closing session.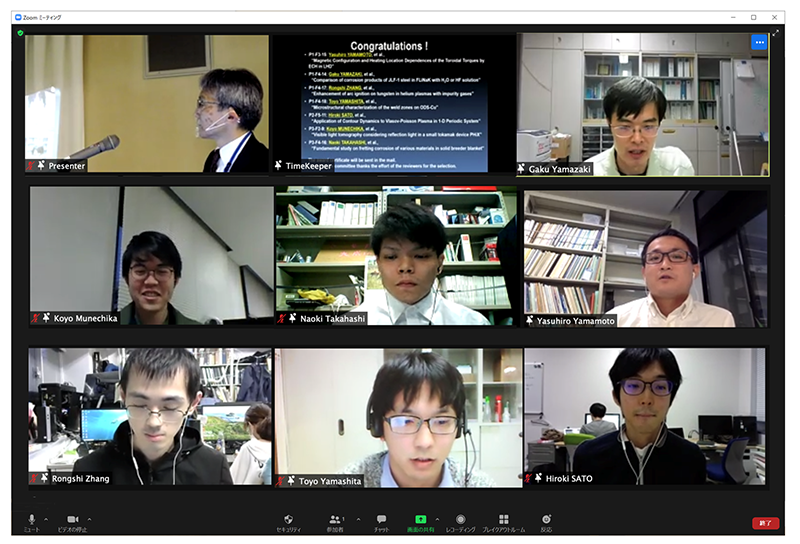 Best Student Presentation Award
This award encourages students to conduct research in the plasma and nuclear fusion fields. Applicants must submit an abstract of their presentation and must complete their registration through the website.
Details of the Award follow below.
Nominees: students who present an oral or a poster presentation.
How to apply: the button "I am a student and I agree to enter the Best Student Presentation Award." should be checked in the abstract submission form. After the acceptance of your abstract, the registration has to be finished via the ITC29 website.
Deadline: the application will be closed at the deadline of the abstract submission.
Award ceremony: the winners will be announced in the closing address and on the website.