Ceratopia Toki, Toki-city, Gifu, Japan, November 5-8, 2019
The ITC Best Presentation Award for Students
Winner of the Award
The following three students received "The ITC Best Presentation Award for Students".
Jabir AL SALAMI, "Development of SPH method for simulation of liquid metal divertors"
Keito HANAI, "Development of Cs-free negative ion source by sheet plasma",
Anggi Budi KURNIAWAN , "Estimating ripple transport of fast tritons by D-D fusion in JT-60SA tokamak"
They received the certificate from Prof. Mito, the chair of the local organizing committee.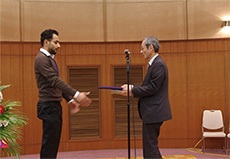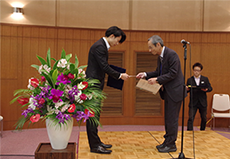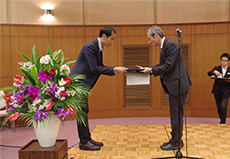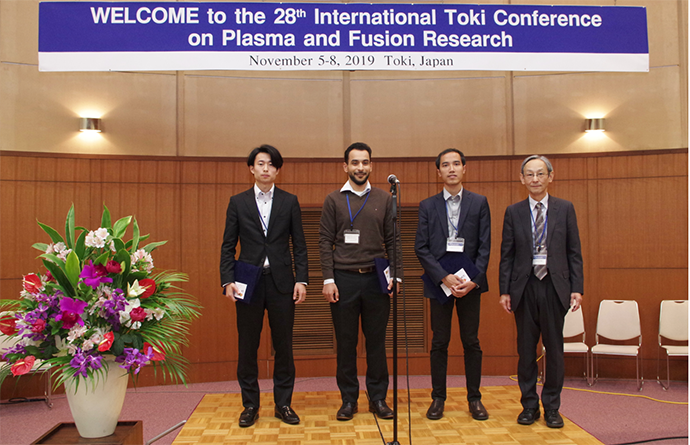 We are pleased to announce that the "ITC Best Presentation Award for Students" is newly established. This award will be presented by the International Program Committee (IPC) to students who have given excellent presentations at the International Toki Conference (ITC).
Details of the Award follow below.
Nominees: students who presented an oral or a poster presentation during the ITC.
Application: by email to the LOC by the deadline, giving the presentation number with his/her name and affiliation, and the title of the presentation with the category number. No recommendation letter is required.
Selection: with the score sheet checked by the IPC members who attend the ITC and by some participants selected by the chair of the IPC. As many as three students with high scores will be selected.
Award ceremony: will be held during the banquet. The winners will receive the award certificate with extra prize.
Application deadline is October 16th, 2019
Please send email to

with the subject "Application to ITC Best Presentation Award for Students". In the email, you should write your name and affiliation, title of the presentation, category number, and your presentation number after you receive it in September, 2019.
We are waiting for your application.
Toshiyuki Mito
Chair, Local Organizing Committee
28th International Toki Conference (ITC28)