For General
NIFS is conducting various events and activities for the purpose of informing the public about its research activities and of enriching science education for society and other educational institutes.
NIFS Open Campus & Fusion Festa
Every year we open the Institute and its research facilities to the community so that people may understand our research activities and become interested in our leading edge research.
In our Open Campus event held in September 2019, more than 1,400 people, primarily parents and their children, visited NIFS(image 1).
At the Fusion Festa event in Tokyo held in May 2019, to which more than 1,800 people visited, we held open lectures and a science classroom(image 2).
NIFS Tour
Throughout the year, NIFS welcomes visitors for the facility tour, where visitors can see several experimental facilities and hear a summary of NIFS research updates(image 3).
Coordination with High Schools
NIFS provides lectures by our researchers at high schools and also accepts students for a study tour in NIFS.
The institute positively cooperates and collaborates with the Ministry of Education, Culture, Sports, Science and Technology in educational programs called Super Science High School (SSH) and Science Partnership Program (SPP) to encourage young people to take an interest in science and technology and to deepen their understanding. An advanced lecture, an LHD tour, and scientific experiments using facilities in our institute are well received by students and school teachers.
Image4: Experiments with plasma discharges were conducted for Tajimi High School in Gifu Prefecture. Students are investigating the interaction between plasma and the magnetic field.
Open Lectures for Local Residents
Every year in July and during the International Toki Conference, two academic lectures are given for city residents. (Image 5)
Dissemination of Information through Various Media
NIFS Information Movie/ For Our Children's Future
NIFS official pamphlet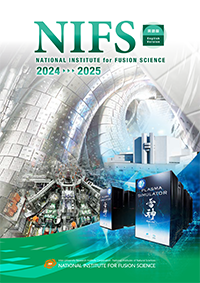 Public relations magazine