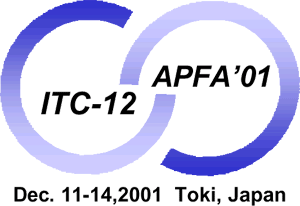 Joint Conference of
The12th International Toki Conference on Plasma Physics and Controlled Nuclear Fusion
and The 3rd General Scientific Assembly of Asia Plasma Fusion Association
Frontiers in Plasma Confinement and Related Engineering/Plasma Science
Organized by
NIFS (National Institute for Fusion Science)

---
The joint conference of ITC-12 and APFA'01 was successfully completed.
We are deeply grateful to you for your contribution to ITC-12/APFA'01.
---
Viewgraphs of Invited Talks
When you cannot see the PDF files below,

1)Open Acrobat reader window,
2)file->preference->General (Acrobat reader 4.0)
or
edit -> preference -> General -> Option -> Web browser option(Acrobat reader 5.0)
3)Check out "Web browser integration".

Then you can see the viewgraphs.

(Some pages contain local characters.)
e-mail:itc12@nifs.ac.jp
National Institute for Fusion Science
Copyright: 1995-2001 National Institute for Fusion Science (NIFS)
Address: Oroshi-cho, Toki, GIFU, 509-5292, Japan
Telephone:+81-572-58-2222
:FAX+81-572-58-2618